Fashion reflects the personality of each person. Therefore, fashion will vary from person to person. But the common point here is that everyone likes to dress well, and everyone wants their personality to stand out in the eyes of others, even when it comes to sports. Therefore, choosing a suitable sportswear is something that many people are considering. In this article, Lasfour will guide you in detail on how to choose a tracksuit that best suits your style. Let's discover together now!
Which sportswear to choose to suit your style?

It is not difficult for you to choose sportswear models that suit your style. But that doesn't mean that whatever you like to wear, you will wear sportswear. Because each sport will have its own specific dress code when playing sports, especially if you want to play professionally. To know the specific way to choose a suitable sportswear, you need to consider a few more things: 
1. Ask for the dress code of the sport you are playing

Each sport has certain dress requirements. Of course, if you're not a professional player, but just playing to exercise, there's no need to stress about this. But for team sports, it is also important to pay attention to the dress code. For example, if you play badminton, the clothing requirements are not too strict, but badminton is a sport that uses a lot of hands, so you should not choose sports shirts that are too tight. Or why do you see golfers wearing polo shirts when golf is also a sport that uses a lot of hand strength. It not only comes from tradition, but also because golf shirts are worn with trousers, so it needs more formal politeness.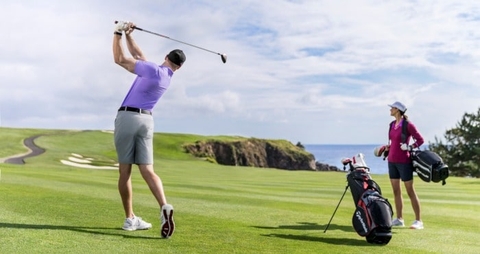 In addition to ensuring the necessary factors, you can completely choose sportswear with colors and designs according to your preferences. Because that's also the part where you can confidently show off your style?
2. Put comfort first

There are some cases when you play sports but focus too much on your image that you forget the initial factor when playing sports that is to be comfortable. Because sports is also an activity for you to de-stress after stressful working hours, so choose sports clothes so that you can feel as comfortable as possible.

For the world famous sports fashion brands, comfort is a top priority. But at the same time, we also pay great attention to the spirit of fashion, so you can just play sports and then go out with friends without having to change clothes, especially for female wearers.

Depending on your body shape, you can choose sports suits that are in balance with your physique. Sometimes you see some pretty tight sportswear and you want to follow that style. But your body is not suitable, so why not make yourself more comfortable with sportswear that suits you?
3. Don't forget the included accessories

Accessories contribute greatly to shaping your style, it will make your appearance more prominent. For example, in running, in addition to running clothes and shoes, you can equip a running hip bag, a running water bottle, a running hat or some other accompanying technology accessories such as: It is a smart watch to measure health indicators or a headset so you can exercise while listening to music effectively.
Epilogue

The story of fashion or sports, the ultimate destination is to improve people's health and spiritual life. Sportswear models accompany you in all sports and even in everyday life. And Lasfour is still on that journey. Hopefully coming to Lasfour, you will find yourself such products.